A brief description of each page on this site is given below.
KATO HAVAS – displays a brief biography of The New Approach's creator.


NEW APPROACH – displays a brief outline of The New Approach and its achievements.


KHANA – lists the KHANA representatives around the world


SOURCES – lists where books, videos, etc. on the New Approach may be obtained.


CALENDAR – lists coming KHANA courses and seminars around the world.


MESSAGE BOARD – a place for questions and comments about The New Approach.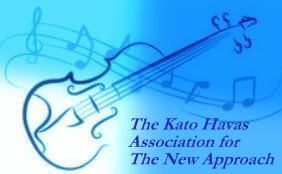 For further information or to join Khana please see the bottom of this page.
KHANA EDITORIAL BOARD
President
Gloria Bakhshayesh, 3 Beacon View, Marple, Stockport, Cheshire SK6 6PX, UK
gloria.khana@gmail.com
Editor
Jeanne Porcino-Dolamore, 701 Cathedral Street, Apt.91, Baltimore, MD 21201, USA jpdolamore@gmail.com
Treasurer (for USA, Canada, China, Australia and New Zealand),
Karen Davy, PO Box 211, Bayside, CA 95524, USA
kndavy@yahoo.com
Treasurer (for UK and Europe),
Helen Weedon, 67 Rostrevor Road, Stockport SK3 8QP, UK
hwkhana21@gmail.com
UK Secretary
Dr. Christine Gill, White House Farm, Trenholme Bar, Northallerton, N. Yorkshire DI6 3LQ, England khanauksecretary@gmail.com
Web Site Co-ordinator
Jo Capek, 15 Burnside Terrace, Biggar, S. Lanarkshire, Scotland ML12 6BY
jo@capek.co.uk
KHANA REPRESENTATIVES (USA)
Michelle Liechti, Strings Faculty at Brattleboro Music Centre, Vermont
694 Ames Hill Road, Brattleboro, VT 05301, USA micnic694@gmail.com
www.bmcvt.org/music-school/classes/chamber-music
Area Representatives
South:
Linda Gaines, 5143 Northdale Boulevard, Tampa, FL 33624-6728, USA
lndgaines@aol.com
Mary Cobb, 4318 Rockerfeller Avenue, Sarasota, FL 34231-7612, USA
dmcobb2@gmail.com
Mid-West:
Joanne Cohen, 36 Maravista Avenue, Greenville, SC 29617, USA
cohen@cord.edu
West Coast:
Karen Davy, PO Box 211, Bayside, CA 95524, USA
kndavy@yahoo.com
Jeananne Weber, 1438 Hicks Avenue, San Jose, CA 95125-3821, USA
jmelias.jmw@gmail.com
South West:
Sue Jesch, 2201 Kansas Street, Carson City, NV 89701 USA
http://www.tahoefiddler.com
East Coast:
Karen Gorden, 201 Melancthon Avenue Apt 3-E, Lutherville MD 21093, USA
karengorden1@gmail.com
KHANA REPRESENTATIVES (United Kingdom)
Personal Representative Teacher
Gloria Bakhshayesh, 3 Beacon View, Marple, Stockport, Cheshire SK6 6PX, UK
gloria.khana@gmail.com
Instrument Representatives
Diane Wyatt, Stanton End, Stanton Road,Oxford OX2 9AY, England
Dianewyatt91@aol.com
Monica Cuneo, www.monicacuneo.com or www.viola-in-music.com

Marianne Rist, 83 Annandale Road, London SE10 0DE, England
marianne.rist@ntlworld.com
KHANA NATIONAL REPRESENTATIVES
Argentina
Irene Mizrahi Trezzini, 58 Ch. Ami-Argand 1290, Versoix, Switzerland
cuerdasalaire@bluewin.ch
Australia
Julie Swannell, 29 Australia Court, Newport, Queensland 4020, Australia
Julie@swannell.com.au
Austria
Caroline Duffner, Otto Storchstrasse, 2-4-8-12, 1210 Wien, Austria
violinist@gmx.at
www.carolineduffner.com
Canada
Carmen Ashmead, 288 Rocky Ridge Dr. NW, Calgary, Canada
ceashmead14@shaw.ca
China
Jessica Chia Fulan, 38 Goldhill Avenue, Goldhill Towers, Apt. No. 13-44, Singapore 309021
C/o Michele Fulan, 325 Cedar Street, Granville, OH 43023 USA
Czech Republic
Jana & Jiri Illetskovi, Pilipova 2016, 148 00 Praha 4, Chodov, Czech Republic
Ivana Kulhova, Dolni Ples 24, 551 01 Rasosker, Jamomer, Czech Republic
Denmark
Elisabeth Schneider, Sortedams Dosseringen 93A, 5th. 2100 Copenhagen Ø, Denmark
ezs@mail.dk or www.elisabethzeuthenschneider.com
France
Pascale Boyer, 22 Rue des Solitaires, 75019 Paris, France
pboyers@orange.fr
Germany
Soren Gehrke, Ludwig-Mohr Strasse 5, Hinterhaus, 34119 Kassel, Germany
Hungary
Zsuzsanna Forsman, Harmat Koz 9, 1105 Budapest,Hungary
forsman.zsuzsanna@gmail.com
Iceland
Katrin Arnadottir, Brekkuas 11, Apt. 101, 221 Hafnarfjordur, Iceland
Israel
Nava Milo, 13 Hailanot Street, 45280 Hod Hasharon, Israel.
navamilo@netvision.net.il
Italy
Jill Comerford, Via Albere 45a, 37138 Vierona, Italy
Japan
Chisumi Ishikawa, 1-15-20-706 Nishiokamoto, Higashinada-ku,
Kobe-shi, Hyogo pref., 6580073 Japan
http://www.shaku8-ishikawa.com/violin/

Luxembourg
Christopher Birch, 72 Rue des Sources, L-2542, Luxembourg
Netherlands
Gerianne Wigboldus, Anton Wachterstraat 3, 4906 EK Oosterhout, Holland
geriannew@gmail.com or www.lekkervioolspelen.nl
New Zealand
Celia Wood-Calvert, 320 Forest Hill Road, Waiatarua, Aukland 0612, New Zealand
celiawoodcalvert@gmail.com
Norway
Helena Forsberg, Losjevegen 6, 7224 Melhus, Norway
hforsb@yahoo.no
South Africa
Marina Louw, 38 Bowden Road, Observatory, Cape Town, 7925, South Africa
Sweden
Dr. Ake Lundeberg, Pipersgatan 11 4tr 5- 112 24, Stockholm
Switzerland
Maya Wenger, Kapfnerweg 17,8810 Horgen, Switzerland
mayawenger@bluewin.ch
For further information or to join Khana please contact:
Gloria Bakhshayesh, 3 Beacon View, Marple, Stockport, Cheshire SK6 6PX, UK
gloria.khana@gmail.com